We find you better deals than Amazon
Get better prices online or local options delivered faster.
Earn cash to give back to charities, for free!

Add to Chrome — It's Free
How It Works
It's almost too
good

to be true.

Feel better about your purchases by finding the best prices from local stores in your community, all while earning money to donate, for free.

Add to Chrome — It's Free
Download the free extension.

Add Cultivate for free to Firefox, Google Chrome, or Safari

Shop like you normally do.

Browse on Amazon and find similar products available from local stores for lower prices and availably nearby.

Feel & Make a Difference

Make the best decisions for your wallet and community by shopping with local stores and donating while you shop.
Win free cash while giving back
It's simple, for every 15,000 points with Cultivate, you earn $5 in cash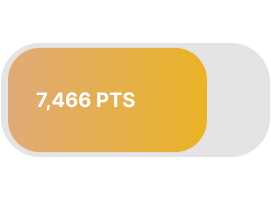 Earn a minimum of 1,000 points per
purchase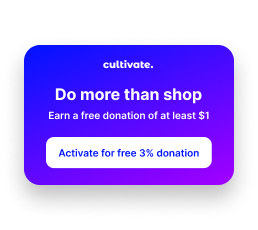 Earn more points at higher donating
merchants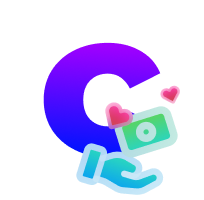 Redeem rewards through PayPal or a
Visa gift card
Add to Chrome — It's Free
Easy to donate,
easier to find your favorite cause.
With just a couple clicks you can donate to any cause you believe in. We've done our homework to partner with and support hundreds of reputable charities you can trust.
Add to Chrome to browse charities — It's Free
Our users wallet when they shop with us
Active Cultivators + You 😉
FAQs
Once Cultivate is added to your Chrome, Firefox, or Safari browser, you will be able to activate the Cultivate extension on our partner sites through a small window that appears in the top right corner of your browser or by clicking the Cultivate icon in your tool bar. This window will tell you how much you can earn in donations from this partner, with a minimum amount of $1.00. When you click the button to activate, a new tab will open to make sure we can track your purchase and provide the corresponding donation to your Cultivate account. From there, all you have to do is shop like you normally would.
Cultivate operates on an affiliate model, meaning we earn a commission from the sales we drive to our partner sites. When shopping with Cultivate, we take a percentage of the affiliate commission we earn from your order and credit it to your Cultivate account so you can pick a charity to donate what you've earned. The more you shop with Cultivate, the greater percentage of the affiliate commission you will earn in donations.
While you don't have to make an account to use the basic features of the Cultivate extension like seeing information about Amazon sellers, you will not be able to earn donation credits and pick charities to send them without an account. You can use your Google, Facebook, or Apple accounts to sign in if you do not want to make an account with Cultivate directly.
On Amazon, Cultivate will provide you with information about the brand and seller of the product you're viewing such as where the brand is headquartered and where the seller is located. We aim to make your Amazon shopping experience as transparent as possible. Cultivate will also provide you with alternative options for stores selling similar products that are in our partner network so you can earn donation credits. Cultivate purchases earn on average 2% of the order amount in donation credits, which is 4 times what AmazonSmile donates per purchase.
In order to let you know if the website you're shopping on is in our partner network, we need to be able to check the domain of the websites you visit. We do not store or track any of this data, so your information is not at risk.
No, we rely on our partner merchants to report to us when orders are made which can sometimes take anywhere from 24-48 hours. Once the order has been reported to us, the donation you have earned will appear in your charity wallet and you will receive a notification to make your purchase.
You earn points through each purchase you make through Cultivate. For every dollar you spend at a Cultivate partner merchant you earn 10 points. For every dollar you earn and donate with Cultivate, you earn 1000 points. Because every Cultivate purchase earns a minimum dollar donation, you earn at least 1000 points with every purchase.
Cultivate points are how you can earn bigger donations and free cash rewards with Cultivate. As you earn points with Cultivate, you'll level up which will increase the percentage of your order value that you earn in donations with each order. Every 15,000 points you earn will earn you a $5.00 cash reward you can redeem through PayPal or as a Visa gift card.